DC/DC Converters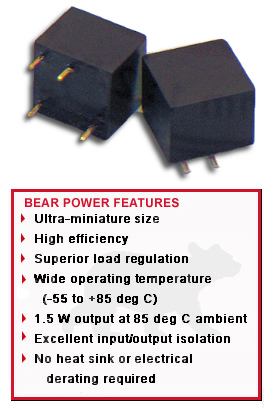 BPS Series miniature isolated DC/DC converters
Now with output to 300 VDC
BPS Series high-voltage DC-DC converters feature up to five times better efficiency and ten times better load regulation than similar products on the market.
Designed and made in the USA, these high-reliability isolated converters operate from -55°C to +85°C with no heat sink or electrical derating required.
These are configurable 1.5W converters, ideal for powering PIN diodes, APDs and piezoelectric devices.
Applications include:
RF transceivers
programmable filters
industrial or scientific instruments
BPS Series converters have a single input voltage (configurable from 3 VDC to 15 VDC) and a single output voltage (configurable from 50 VDC to 300 VDC). They are unregulated; output voltage is directly proportional to input voltage.
The ultra-miniature encapsulated package is only 0.4" (10.2 mm) tall, with a total 0.1 cubic inches and weight of just 4 grams. Both through-hole and SMT versions are available. Download drawings (56Kb PDF)
Designed and made in USA.