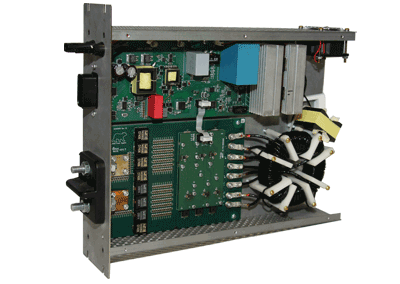 CUSTOM EXAMPLE
6.3 KW DC/DC Power Supply
• 40-80 VDC to 500-600 VDC
• Bi-directional
• 24V/40W aux output
• High 95% efficiency
• Microprocessor controlled
• High-side voltage protection
• Isolated
• Very long life
This bi-directional custom power supply offers high efficiency and very long life in an alternative energy installation. It features high-voltage, bi-directional operation controlled by a microprocessor.
Custom DC/DC Converters
for Alternative and Renewable Energy Applications
New energy storage battery systems for renewables like solar power need reliable DC/DC converters to connect to the grid. Alternative energy sources such as fuel cells need DC/DC converters to safely power buses, forklifts and other systems.
We design and produce custom bi-directional DC/DC converters for use with vanadium flow batteries (VFB), energy storage membranes, fuel cells and more.
High efficiency over a wide voltage range
Our DC/DC converters feature an impressive 95% efficiency over a wide range of input and output voltages and loads. We design converters with power up to 20 KW and voltage range of 40 to 1200 VDC (bi-directional).
Long life, customized for your system
We design for long life (>10 years) and high reliability in harsh and remote locations.
Our experienced power supply design engineers work with you to deliver the form factor, voltage range, and features you need. These can include auxiliary outputs and the ability to interface with your communications and monitoring systems. You get high performance and low cost of ownership for your alternative energy or renewable energy system.
Proven expertise in rugged, reliable power
We have a long history of producing rugged, reliable, long-life power supplies for remote and challenging environments. All Bear power supplies are designed and manufactured in the USA.
Bear Power Supply Capabilities for Alternative Energy Applications
Custom DC/DC converters
Power to 20 KW
Voltage range 40 to 1200 VDC bi-directional
Bi-directional or uni-directional
Auxiliary / secondary outputs
High 95% efficiency over a wide voltage range
Lifetime >10 years
Microprocessor control
Custom form factor
Other custom features as required