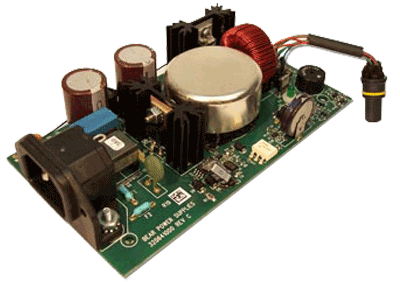 Custom Power Supplies for Medical Applications
Bear excels at innovative, high-reliability custom power supplies for medical instruments. We design and produce medical power supplies used in diagnostic instruments and patient care devices, from primary care physician offices to operating rooms.
Ultra-low leakage current for Type CF-rated and BF-rated medical equipment
Our innovative isolation techniques yield leakage current of less than 5μA, exceeding the requirements for Type CF-rated medical devices.
We excel at customization, even for low volumes. We can give you non-standard output voltages, unusual form factors to fit your precise size and configuration constraints, compact sizes for portable medical devices, wash-down safe encapsulation and more.
Quality Processes
We have the manufacturing flexibility and capacity to support both low- and high-volume production.
We are able to comply with medical device manufacturers' Quality Processes, supporting requirements such as Failure Mode Effects Analysis (FMEA) and lot traceability of components. We have successfully passed quality audits by several of the world's largest medical device manufacturers.
Bear Medical Power Supply Features
Low leakage currents – as low as 5μA for custom power supplies
Very quiet outputs
Low conducted and radiated noise for sensitive medical instruments
Low turn-on inrush current for fewer nuisance fuse failures, and less stress on the converter for longer power supply life
High reliability in critical life-saving instruments
Compact size for smaller, more portable systems
High efficiency – no need for a cooling fan – for smaller, quieter systems
Remote on/off (some models) allows you to design a front panel power button without routing line voltages to the front of the equipment
Operation over international voltage ranges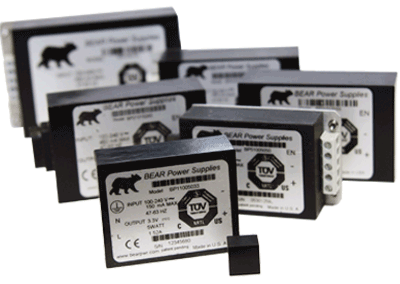 Standard Power Supplies for Medical Applications
Standard BP Series power supplies encapsulate the power entry module, EMI filter, and inrush current limiting circuitry in a compact, CE-marked power module. With this power-related circuitry in the pre-approved module, medical instrument designers can:
Eliminate high-voltage traces and many components from their system boards.
Create smaller instruments that are safer to maintain and operate.
Simplify medical approvals for the system.
Eliminate the external clutter of bricks and "wall warts."
Medical Certification Testing
All Bear power supplies are tested to medical equipment safety and EMC standards including UL, IEC, CAN/CSA and EN.
UL2601-1 Medical Electrical Equipment: General Requirements for Safety
IEC 601-1/A2 Medical Electrical Equipment: General Requirements for Safety
CAN/CSA-C22.2 (No.601.1-M90) Medical Electrical Equipment, Part 1: General Requirements for Safety and Collateral Standard: Safety Requirements for Medical Electrical Systems
EN 60601-1-2 EMC Standard for Medical Devices including:


o EN55011 Conducted and Radiated Emissions




o EN 61000-3-2 Harmonics




o EN 61000-3-3 Flicker




o EN 61000-4-2 Electrostatic Discharge




o EN 61000-4-3 Radiated Immunity




o EN 61000-4-4 Fast Transient Burst




o EN 61000-4-5 Surges




o EN 61000-4-6 Conducted Immunity




o EN 61000-4-8 Power Frequency Magnetic Field




o EN 61000-4-11 Voltages Dips and Interrupts