Online Store
Encapsulated AC/DC Power Supplies and DC/DC Converters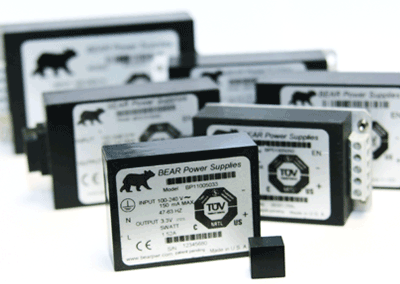 Built for performance and long life in commercial, industrial and medical applications, these rugged and compact modules feature wide operating temperature range and reliable operation in harsh environments. All are TUV certified, CE marked and RoHS compliant.
BP Series AC/DC Power Supplies
BP Series AC/DC power supplies incorporate active inrush current limiting, fusing and EMI filtering in one compact module. These features save space and make design and certification easier. Our patented mini-IEC input power modules with detachable line cord improve safety for your users by eliminating exposed high voltage traces from your system printed circuit board.
Line Cords
ACCESSORY FOR BP2, BP3,
BP5 AND BP6 SERIES
BPS Series DC/DC Converters
BPS Series high-voltage DC-DC converters feature up to five times better efficiency and ten times better load regulation than similar products on the market. Designed and made in the USA, these 1.5W converters are configurable for output to 300VDC.
PCB MOUNTABLE
SMT OR THROUGH-HOLE
Ask Us About Custom Power Supply Design
Don't see what you need? Talk to us about a custom design. We design and manufacture custom power supplies from milliwatts (mW) to kilowatts (kW); open frame, enclosed or encapsulated.